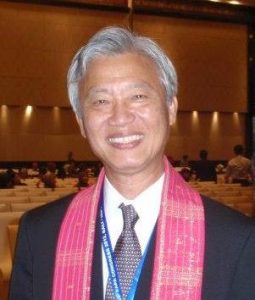 PRESIDENT JOSEPH WANG
FAPA PRESIDENT (15~18)
---
Inaugural Address
2014.10.11 Gala Banquet
My dear colleagues, thank you.
Asian pharmacists are good at many different things.  Some are devoted in caring for their patients and specialized in manufacturing drugs; while others are proficient in conducting research, developing and implementing regulatory controls and educating next generation pharmacists as well as fulfilling numerous responsibilities demanded by the society.  But there is ONE task that ALL OF US Pharmacists are definitely good at.  Do you have any guess?
All pharmacists know how to MEASURE.
My next question is: How do we measure SUCCESS?
Recently, a lot of developments have taken place in our member countries.
Everyone is so busy.  But have you asked yourself, "Why am I so busy!" The  amount of work that pharmacists do right now is overwhelming, but all of our efforts will be wasted, if we do things without knowing WHY we are doing them.  And so, the first step to achieve success is to concretely define how it will be MEASURED.
This year is the golden celebration of the first 5 decades of FAPA.  As we start
our next decade, it is important for us to set a clear target so that we can MEASURE, whether we are achieving success.
With this, I would like to share with you our THREE TARGETS as we open a
new decade for FAPA.
The first is, we will make FAPA, BIGGER.
Our vision is to expand our membership and invite more countries to join and become active members of FAPA.  We also need to make every FAPA conference a venue for MORE people to meet and discuss not only their researches, but also share their experiences and come up with collective decisions to inspire action in the different member countries.
Although a lot of Asian countries may encounter similar challenges, there are
also member countries with specific concerns that FAPA can help in addressing.
The most notable ones include the Separation of prescribing and dispensing,
and the development of pharmaceutical care services.  FAPA can organize a
support system between members to ensure that no Asian Pharmaceutical Association will be left behind.
Our second target is, we will make Asian Pharmacy Practice BETTER, through
GPP.
We have already started this program and will continue to promote Good Pharmacy Practice to ensure patient safety and improvement of health outcomes.  The whole health care system, including Pharmacists, exists for the patients and our role is to ensure timely access to high quality products and disseminate balanced drug information to optimize patient medication use and support improve their health.
Our third and final target is to make FAPA STRONGER.
We will strengthen FAPA by developing our linkages and supporting other organizations like the World Health Organization.  We can show how Pharmacists can play a big role in health promotion and Public Health by joining in the current initiatives to address the continuing challenges in managing Non-Communicable Diseases, mitigating Antimicrobial Resistance and enhancing Disaster preparedness, which affects various countries in the WPRO, EMRO and SEARO.
Now while the first step to achieve success is setting our target, we cannot reach the finish line by avoiding the more challenging next step.  We need to act!  Now that we know where we are going, we should run full speed and exert all our efforts, even if it is tiresome or even if it takes longer than we expected.  As long as we keep our focus on our target, and take each difficult step, we will reach the finish line.
Let me ask you again, How do we measure success?
Did we reach our target, and cross the finish line?
Were we wise in investing our efforts, and how fast did we get there?
OK, I know the only one keeping each of you from reaching your target tonight
(Dinner/Dessert) is me.
So I'll have to end my speech with these simple lines for you to keep:
Together we are BIGGER
Together we are BETTER
Together we are STRONGER
Together, we are ONE
Let's ACT together and celebrate our success in the near future!
Thank you, enjoy the rest of the evening.