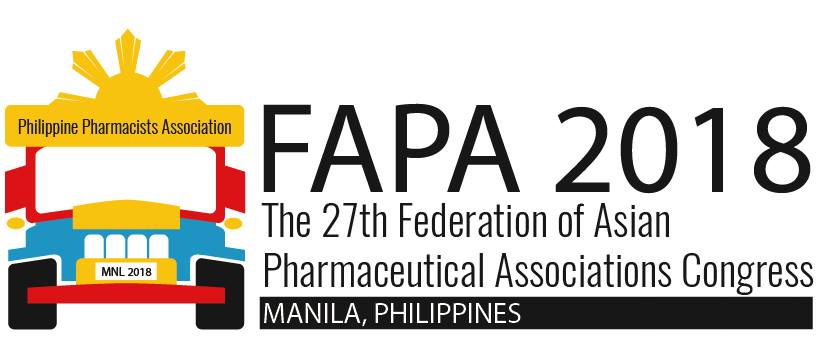 Abstracts
CALL FOR ABSTRACTS
Topics
Abstracts for both oral and poster presentations may be submitted under the following topics:
Scientific
Pharmacoepidemiology and Pharmacoeconomics
Hospital and Clinical Pharmacy
Industrial Pharmacy and Marketing
Community Pharmacy
Pharmaceutical Education
Administrative, Social Pharmacy and Ethics
Pharmaceutical Legislation, Regulatory Science and Pharmacopoeia
ABSTRACT SUBMISSION PROCESS
All oral and poster presenters who wish to submit their work can only do so via the FAPA Abstracts Submission Form (ASF). The form will be open to accept submissions from February 1, 2018 – May 31, 2018.
NOTE: Interested presenters may already submit their abstracts for review before registration.  However, complete registration and payment is required for official inclusion in the program and reserving the slot for the oral/ poster presentation. Paper submissions, faxed or e-mailed abstracts will NOT be accepted.
ABSTRACT REVIEW AND RESULTS
All abstracts submitted will undergo review by the scientific program committee which includes the co-chairpersons of the local host of the FAPA congress. Upon approval of the FAPA Section chairs, the presenters will be notified of the results of their application. Please wait for the email notice on the result of your abstract submission which will be sent on or before July 15, 2018
ABSTRACT GUIDELINES
Abstracts should be written in English and must be brief. Please use the list below as your guide on the maximum characters that will be accepted by the abstracts submission form.
TITLE: 200 characters max
OBJECTIVES: 450 characters max
METHODS: 500 characters max
RESULTS: 700 characters max
CONCLUSION: 300 characters max
Abstracts should report on completed researches, not ongoing investigations. The Oral and Poster Presentations Subcommittee reserves the right to make minor corrections in the submitted abstracts.
Abstracts will only be included in the final programme if the presenting author has completed their registration (including full payment) to the FAPA congress on or before July 30, 2018.
ABSTRACT INQUIRIES
For other inquiries, contact abstracts.fapa2018@gmail.com
before Early Bird Registration ends