Programme
The 27th Federation of Asian Pharmaceutical Associations Congress
October 24-27, 2018
Pharmacists for the Global Goals: Creating Value Beyond Health
PLENARY TOPICS
Regulations
Addressing challenges of integration and collaboration
25 October 2018
To fulfill our crucial role in safeguarding public health, enhancing regulatory collaboration is key. Learn more about the different methods, best practices in regulatory strengthening, and how Health Technology Assessment is used as a tool for policy development and program planning.
Access
Addressing challenges of inequity and service delivery
26 October 2018
To achieve universal health coverage, access to medicines is a prerequisite. Therefore, we pharmacists play an integral part in tackling the issue of health inequity. Join the discussion and learn more about how we can close the gap through pharmacy-based services and other methods of working with patients and consumers to achieve optimum health outcomes.
Innovations
Addressing challenges of discovery and evolution
27 October 2018
To create value beyond health, we continue to adapt according to the current and emerging needs of the profession, consumers, patients, and communities. Gear up to learn more about the strategic directions of the pharmacy profession in Asia towards achieving technical excellence and social relevance in the era of Sustainable Development Goals.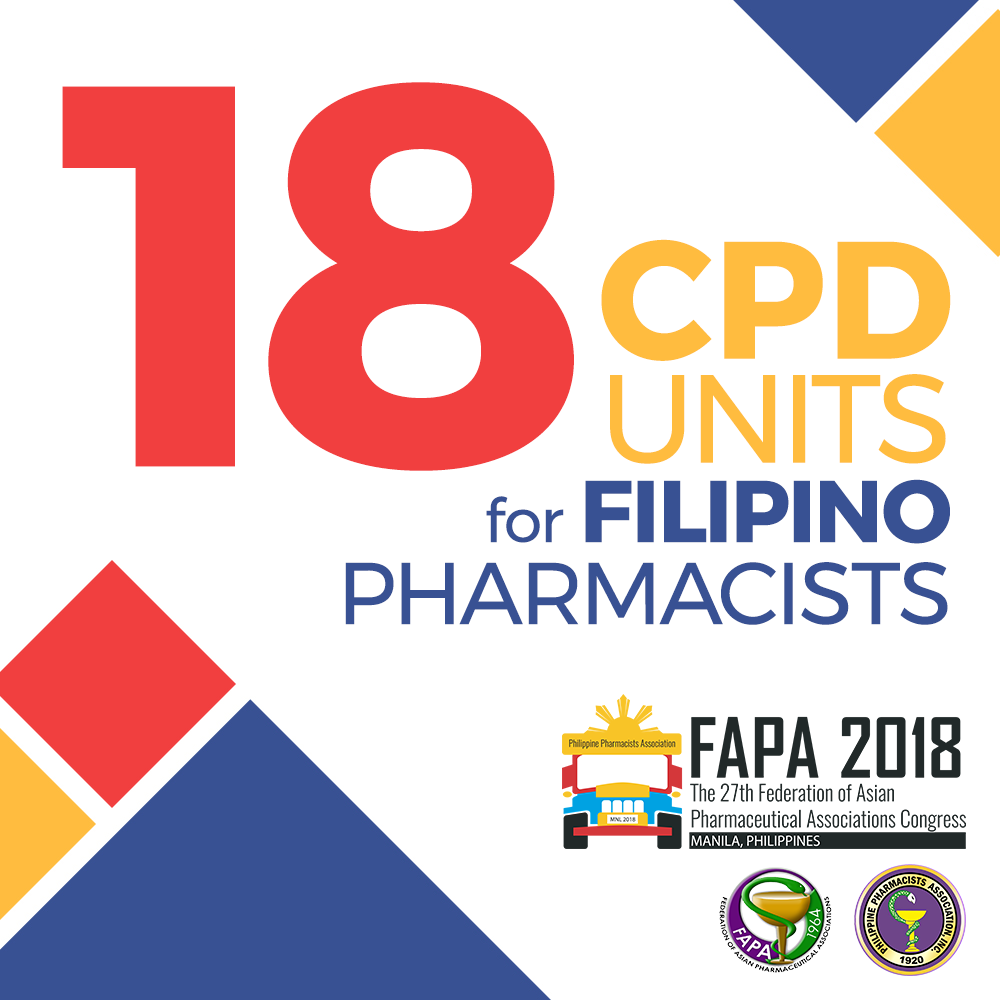 CPD Units for the Philippines
This 2018, PPhA is fortunate to be able to bring the FAPA Congress to Manila and provide a rare opportunity for local pharmacists to attend this bi-annual international conference for a discounted rate at an accessible venue (PICC). The standard early bird rate every congress for pharmacists is 350 USD, with the next Congress to be held in Hong Kong in 2020.
FOR FILIPINO PHARMACISTS ONLY, enjoy discounted rates of Php 10,000 during the early bird period until 31 July 2018. Regular local pharmacist rates (Php 12,000) will apply starting 1 August 2018.
NOTE: Additional transaction fees (Php 500 for Paypal) will be shouldered by the participant.
2018 FAPA Congress Full Scientific Programme
with 18 CPD Units approved for Filipino Pharmacists
left before FAPA 2018